Thunder Rep B Program
---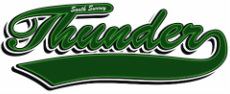 "HONESTY, INTEGRITY
SELF-ESTEEM & TEAMWORK"
SSWR THUNDER Rep "B' Program
For athletes in the U13 to U19 age division (12+, female)
SSWRMSA strives to teach young athletes the fundamentals of the game of softball and to foster the growth of honesty, integrity, self-esteem and teamwork. Our Thunder Rep 'B' program is designed to provide players with the opportunity to develop their softball skills beyond the House 'C' level. The Thunder Rep 'B' program provides a more competitive environment for those athletes who enjoy that aspect of the game.
Thunder teams are certainly a step up the competitive ladder from our house level, however, our Rep 'B' program is not a win at any cost kind of competitive program. The program has a strong focus on player development and players are encouraged to challenge their abilities. Players who fully participate in games and practices can expect to have more-or-less equal playing time.
To achieve this higher level of competitiveness players are expected to commit more time and effort to the softball team. Typically, this means that the team will practice regularly starting in October, usually once a week. Pitchers and catchers can expect to attend weekly pitching clinics throughout the fall and winter. This practice schedule allows players to continue to participate in other fall and winter sports, which we strongly encourage. During the season teams will play games throughout the lower mainland and have more weekend tournaments. The Thunder team is a select team so players do need to tryout. Our tryout process is designed to be as unbiased as possible so that athletes are selected based on their athletic and softball skills.
The tryouts for South Surrey White Rock Thunder teams are held in conjunction with the White Rock Renegades Rep 'A' teams. The combined tryout is only one example of the tradition of co-operation between South Surrey White Rock and the Renegades. We have a long history of sharing resources so that South Surrey and White Rock athletes have the opportunity to play softball at all levels.
The Season
September / October
Tryouts are held, usually, in the first week or two of September.
Teams are formed. Coaches will contact their players, set up practice times.
Teams will likely practice once a week October to March.
Pitchers will attend pitching clinics if offered by the association.

April
Ice Breaker Season Opener Tournament (all house teams play, Thunder teams generally do not) and team pictures.

April to June
Regular season games commence in April and continue through to the first weekend in June. Regular season play consists of two games each week:
Games are generally held in the evenings, 6:00 / 6:30 p.m. to 8 p.m. Consist of home and away games, away games can be all over the lower mainland.

June
District playdown tournament, held in Surrey. Provincial tournaments may follow. Dates and venues for Provincials are set in January by Softball BC.
July
Provincial tournament, usually held in the first couple of weeks of July, can by anywhere in BC.
Age Ranges
Gender Information
Day of the week division would normally play on